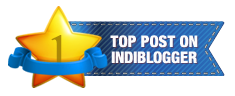 When a picture searches for its music, or a piece of music finds its right picture…the result is a magical experience of Light and Sound.  
Certainly, not all is well with the world today.
I don't have to give any examples to prove this fact.
Certainly, not all will get well with the world any time soon.
I don't have to give any reasons to explain why.
Certainly, not all well-wishers of the world, who are more in love with their voices and opinions than the world, have spoken their last about how to make it all well.
I don't have to say anything more on why these well-wishers will not stop any time soon.
But one thing I am, and I sincerely hope to remain, quite certain of is this —
This is not a never-ending winter.
The Sun has a way to melt down the hardest ice and thaw out the harshest freeze.
The Light has a way to dispel the darkest darkness from the deepest corner and cranny.
The Dawn has a way to bring a new beginning, a greater faith, a stronger hope.
And what I am also certain of is this —
This is true not only of The World.
God shall grow up while the wise men talk and sleep;

For man shall not know the coming till its hour

And belief shall be not till the work is done.
This is also true of my little world.
Whatever the appearance we must bear, 

Whatever our strong ills and present fate, 

When nothing we can see but drift and bale, 

A mighty Guidance leads us still through all. 
This is 220th post for the blog. An interesting number, I thought. And this happens to be a post to celebrate Makar Sankranti & Pongal, an occasion to welcome new and auspicious beginnings. For my world. For The World.
*******
To see previous post in the series Light and Sound, click here.
To see all posts in the series, click
here
.
Poetry source: Sri Aurobindo, Savitri, Book I, Canto IV, p. 59 & 55
 Picture source: here
 Kolam outside my home, this morning, drawn by a young talented girl in our neighborhood
******
 Written for Blog-a-rhythm Wordy Wednesday Prompt: Never-ending Winter
 Linking this up with ABCWednesday, A: A is for All, Auspicious